Nathan S. Miller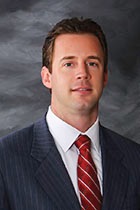 Nathan S. Miller is a partner of the law firm of Miller & Ayala, LLP. His field of expertise is in the area of Commercial and Business Litigation specializing in Real-Estate and Contract Litigation and Personal Injury.
Experience
Prior to becoming a founding partner of Miller & Ayala, LLP, Mr. Miller founded a successful solo practice specializing in Real Estate, Contract Litigation and Personal Injury. Mr. Miller proudly serves as counsel to some of the areas largest restaurants and commercial business. Mr. Miller also serves as special counsel to Pangae Entertainment and A&R World Wide located in Beverly Hills, California. Mr. Miller has become one of the areas premiere personal injury attorneys representing Plaintiff's of wrongful death actions, actions against casinos, car accidents, truck accidents, slip and falls, burn victims, dog bites, battery, assault and various other personal injury actions.
Professional Associations
Mr. Miller is admitted to practice before the State Bar of California and is also a member of the Fresno County Bar Associations.
Education
Mr. Miller has a juris doctorate degree from San Joaquin College of Law, a Bachelor of Science, pre-law.