Mary Ayala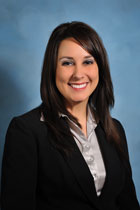 At the law firm of Miller & Ayala, our family law section is headed up by Mary Ayala. Ms. Ayala is a renowned family law attorney, who has litigated several high profile divorce matters and provides sound legal advice and expertise. She is sought after by family law experts as a contributing force in the area of family law. Her knowledge in the area of divorce, child custody and support issues is unmatched. If you are looking for a family law attorney in Fresno, California or any other area of the central valley, call Mary Ayala today.
Ms. Ayala graduated near the top of her law school class and has litigated several complex family law and civil matters in the Central Valley. Until recently, she was an associate with the law firm of Pascuzzi, Moore & Stoker in Fresno, California. At her previous law firm, Mary Ayala handled all of her firm's family law matters. She was considered the go-to person for divorce, child custody and support issues.
Her experience in aggressive litigation and her compassionate demeanor make Mary Ayala an exceptional family law attorney. Ms. Ayala has successfully represented individuals and corporations from the beginning of litigation through trial and entry of the judgment. Ms. Ayala's aggressive and compassionate approach to dissolution actions and child custody and visitation matters allows the client to feel protected and secure.
Ms. Ayala is a member of the State Bar of California, Fresno County Bar Association, and the VIP Mentoring Program. She is a graduate of San Joaquin College of Law and has a bachelor's of science in criminology from Fresno State University.